Menno Fokma asked me to help him and Floris Vos on this new videoclip for Laura Jansen by matchmoving here face in 4 shots… Ofcourse!
Here is the amazing result of their hard work!
Worked on this fancy Eneco Informercial as matchmover and delivered for each scene a HDRi dome, commisioned by Heerko Groefsema and Wouter Kroese.
I worked as matchmover on four shots for this cool Heinz Ketchup commercial, directed and produced by Postpanic.
I worked as matchmover on a couple of shots for this amazing "Philips TV" commercial, directed and produced by Postpanic!
Hired by The Ambassadors I worked on 20 shots as matchmover for this fun commercial for Holland Casino!
Hired as matchmover and painter by the talented Wouw, Artibite and Heerko Groefsema, I worked on 10 shots seen in this great identity spot for a Dutch broadcaster 'BNN' !
For the Dutch Lotto I was hired by Plusone to do the On Set HDRi, Matchmove Supervision and Compositing!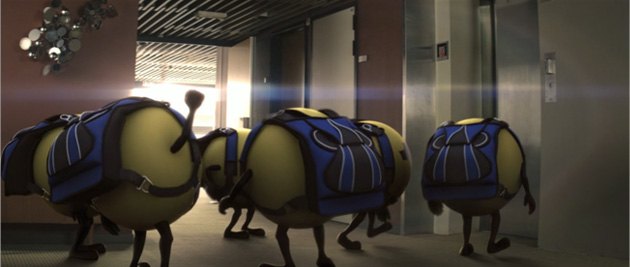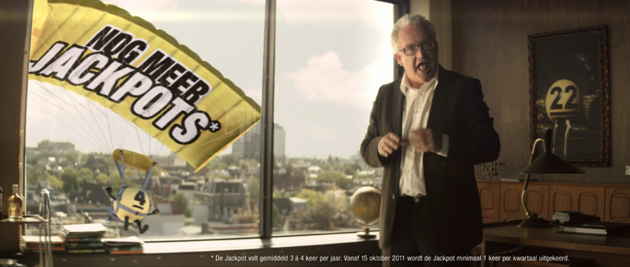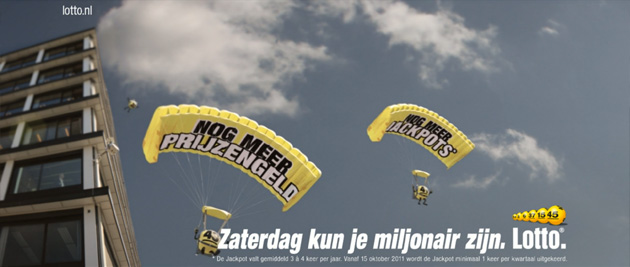 _
Client: Lotto (lotto.nl)
Commisioned by: Alfred International
Agency: PlusOne (plusoneamsterdam.com)
Production live action: Pink Rabbit
Director Ismael ten Heuvel
Producer: Geert Jansen
Character Design: Remi Tjon Ajong
Animation: Remi Tjon Ajong
Modeling: Mao Lin Liao
HDRI, Matchmoving and Rotoscoping: Giso Spijkerman
Lighting and Rendering: Mao Lin Liao
Compositing: Giso Spijkerman
Grading: Condor digital
Sound: FC Walvisch
Last month Postpanic asked me to join forces on this great advert for FBTO as a 3d matchmover and rotoscope/keying artist.
Check out the great spot and stay tuned for some breakdowns.
Last month Postpanic asked me to join their team on the Mini – Rocketman Concept spot as a 3d matchmover and rotoscope artist.
Breakdowns soon to come. Check out the great final spot!
Yesterday, a short iPhone movie i made gained a lot of media attention! The only thing you see is a couple of birds dropped dead from the sky, wondering people and the voice of the shocked cameraman. Within a few hours we were over 20.000 views on Mobypicture and several news websites were reporting the mysterious movie! After 24 hours the movie is over 43.160 views (combined on the several media platforms) and still counting :)
The White Board Where It Al Begun ;-)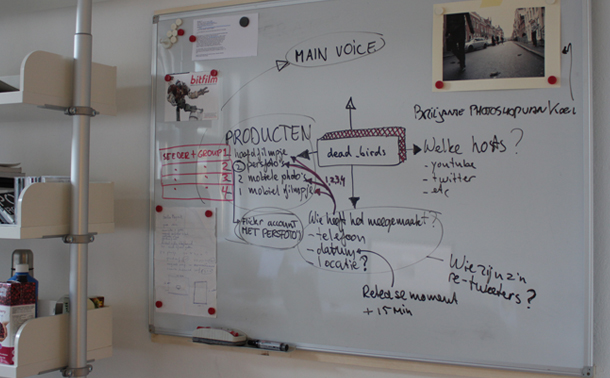 Ofcourse planning a viral is a lot of work but because I knew exactly what I wanted and how to achieve it, I tried to keep it simple and take the things as they came. I started doing some animation tests and a few days later I grabbed my camera and a few buddies from the Puddingfabriek in Groningen to shoot some footage! We also took some highres photo's on a tripod so we could use that later on as 'pressphotos'. Luckely one of the teammembers has his apartment in that street so we were able to capture some footage througout his window. These were just some extra things to sell our main viral :)
e
The First Website The Movie Showed Up: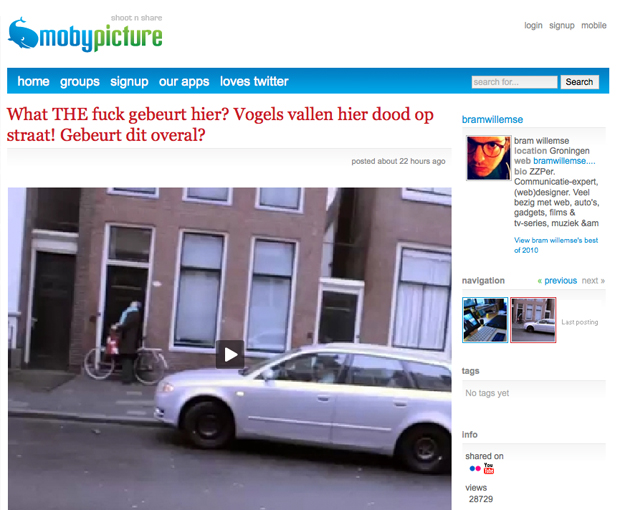 This was a fun moment! We just started our first tweet in the street were it 'all happened'. After buying our lunch at a local supermarket we drove back to the office. Although it was only 15 minutes later, the counter was on 1700 already!
The First 'Press Photo' Released: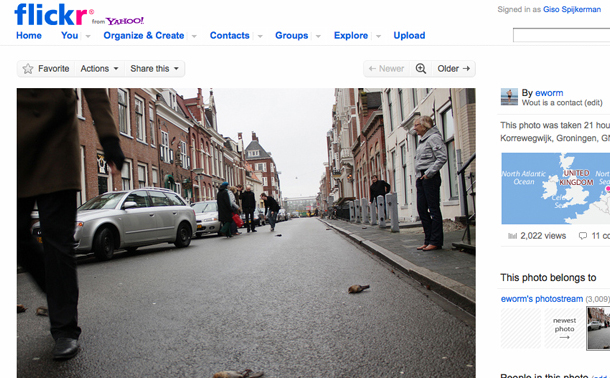 The Press photo was also planned ofcourse. It is a smart photoshop from Koen Leerink and helped us to 'prove' the earlier news.
I really enjoyed the comments because people even thought that our press photographer got fooled (instead of being part of the plan).
Although Youtube started a bit slower, still over 10.000 the first hours: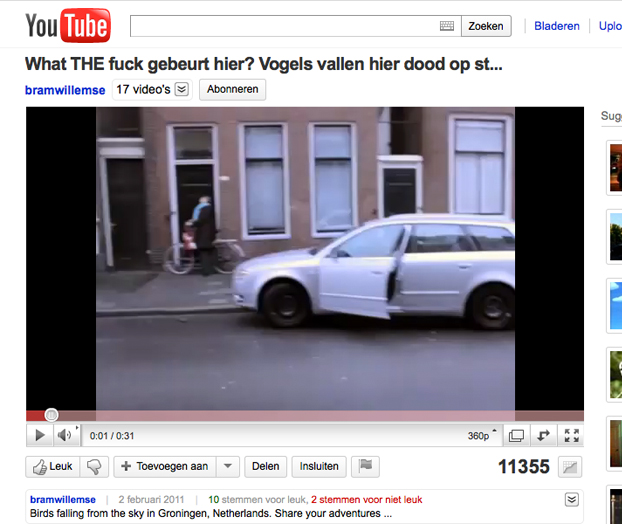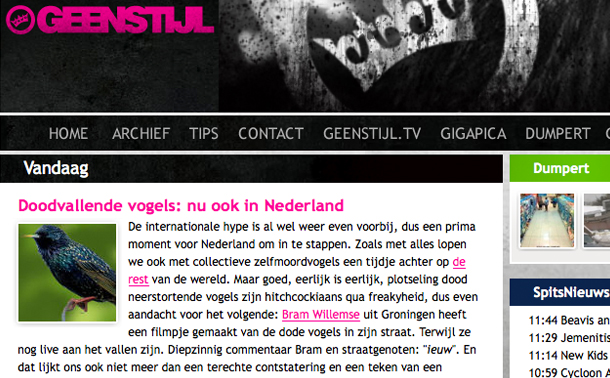 After One Day It's Still The Best Read Article On FOK.nl!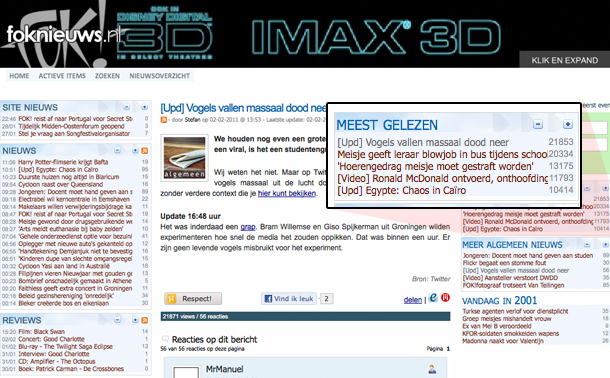 Thanks everybody for the fun! Now get back to work! ;)